Looking for the best no-bake cheesecake? Rich and creamy and so simple to prepare, this no-bake vanilla cheesecake is the stuff dreams are made of.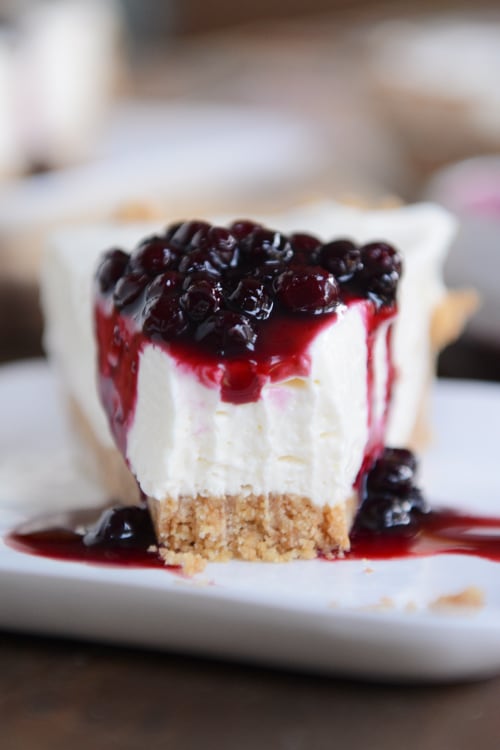 It's all fine and good to have a no-bake chocolate cheesecake waiting in the wings to impress everyone in your life, but though I may be the biggest chocolate lover on the planet, even I know that you need options.
And that's why (just like I promised), here is the best no-bake cheesecake on the planet.
I should know.
I've made about a million different versions over the last decade.
With so much fervor, actually, that I had to take a break for the last year or so; I was kind of burned out on no-bake cheesecakes.
After a short sabbatical and renewed hope (complete with all my notes), it didn't take long to settle on this rich and creamy version.
With just the perfect amount of sweetness, it is everything I want a no-bake cheesecake to be: smooth and velvety, luxuriously creamy, sweet and just a bit tangy, and a perfect proportion of crust.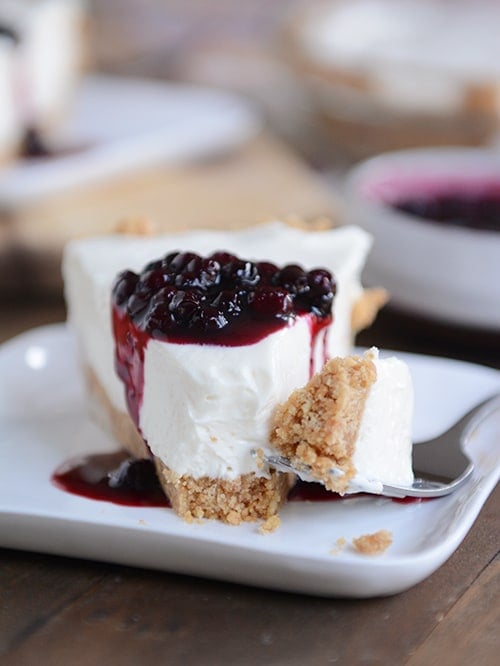 For a while, in the midst of the trial-and-error years, I spent an inordinate amount of time trying to get a no-bake cheesecake that was light.
And I'm not talking light in texture (this one delivers that completely) but light in calories.
And so I messed around with light cream cheese and all the sorts of fillers one would need to get light cream cheese to actually work.
Everything from gelatin to powdered pudding to tapioca.
But I didn't love the result, the often fake ingredients, or all the extra steps to get there.
All of this led me to the personal truth that I'd much rather eat a smaller slice of something real than load it with crazy stuff just to get a cut in calories and still have it set up right.
So if you are looking for an amazing no-bake cheesecake that is extremely simple with huge points for it's thick, rich, creamy filling, look no further.
I think this baby is just waiting to win you some fame and fortune. Or in my case, great big bear hugs from a range of very happy, cheesecake-loving 3- to 37-year olds.
INGREDIENTS:
CRUST:
1 1/2 cups graham cracker crumbs (7.25 ounces, about 13 rectangle graham crackers)
2 tablespoons granulated sugar
6 tablespoons butter, melted
FILLING:
16 ounces cream cheese, softened to room temperature (but not warm)
1 teaspoon pure vanilla extract
1 cup (4 ounces) powdered sugar
1/2 cup sour cream
3/4 cup cold heavy whipping cream
DIRECTIONS:
For the crust, in a medium bowl, combine the cracker crumbs and sugar. Stir in the melted butter until well-combined. Press the mixture into the bottom and 1- or 2-inches up the sides of a 9-inch springform pan or into the bottom and sides of a 9.5-inch pie plate (a regular 9-inch pie plate might work but the crust and filling will be extra thick). Refrigerate until the filling is ready.
In a large bowl with an electric handheld mixer (or using an electric stand mixer), mix the cream cheese, vanilla and powdered sugar until smooth and light, 2-3 minutes. Add the sour cream and whipping cream and mix until very thick and creamy, 4-5 minutes.
Spread the filling evenly into the prepared crust. Cover with plastic wrap and refrigerate at least 4 hours or up to overnight. Serve plain, with fresh fruit or a fruit sauce (see note).
NOTES:
Light (neufchâtel) cream cheese has a different/thinner texture in cheesecakes like this so be forewarned that if you want to sub in light cream cheese, the cheesecake may not set up as well.
The cheesecake is delicious plain but you can add fruit for serving which makes it extra delicious. Fresh, juicy fruit works great (sliced strawberries, blueberries, etc); if you want a simple fruit sauce recipe combine 2 cups fresh or frozen fruit, 1/4 cup sugar, 1 tablespoon cornstarch, and 1-2 teaspoons lemon juice in a saucepan. Simmer, stirring often, until thick and syrupy (you may need to increase or decrease the sugar as needed depending on the fruit as well as adding a little water, a couple tablespoons at a time, if it is overly thick)