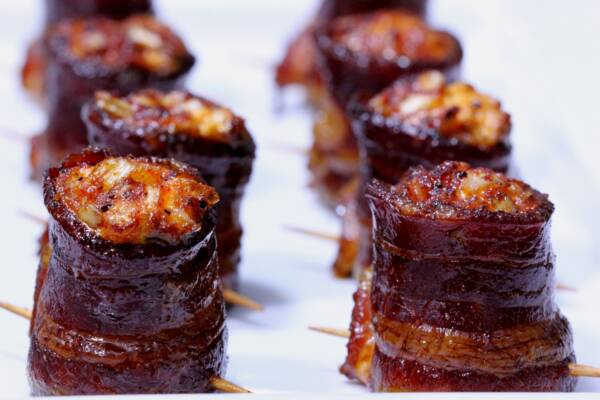 I posted some
smoked pig shots
earlier this year (here they are) and they were as delicious as the day is long but I wanted to change them up and, the cool thing is, like a lot of other things that we do on the smoker or grill, there's a ton of variations. The limit to what you can do with these is directly proportional to your vivid imagination.
This batch has a big ol' hunk of cheddar in the bottom, surrounded by cream cheese and topped with diced onions and my original rub. Oh yeah!
Prep Time: 30 minutes
Cook Time: 90 minutes
Smoker Temp: 250°F
Meat Finish Temp: N/A
Recommended Wood: Apple
1 lb of thick sliced bacon (about 10-12 slices per pound)
1 link of smoked sausage, kielbasa, etc.
8 oz cream cheese, softened
1 block of cheddar cheese, cut into ½ inch cubes
¼ onion, diced
Jeff's original rub recipe (purchase recipes here)
Toothpicks
Step 1: Cut the Sausage and Bacon
I purchased a package of smoked sausage which contains (2) links. One of them I'll use and the other will get saved for later. If you cut the sausage about ½ inch thick, you can easily get 20-22 pieces.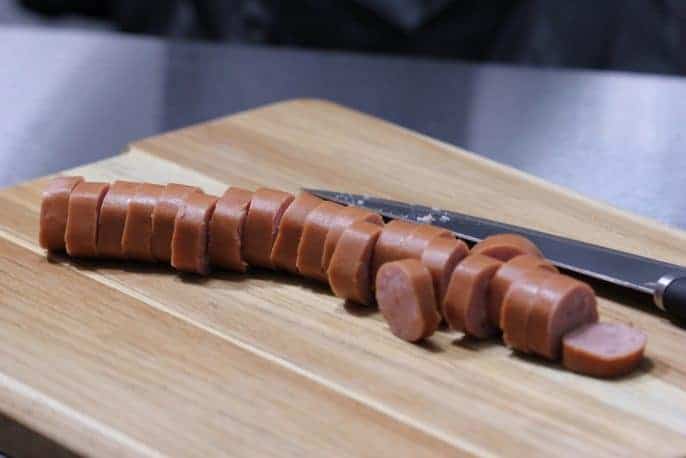 The bacon must be thick for these to work correctly. the thin stuff is too wimpy and just doesn't hold the "cup" shape very well. You'll just end up frustrated if you try to use that stuff. I recommend getting several packages of bacon and if you find that one is too wimpy, put it back in the fridge and save it for breakfast.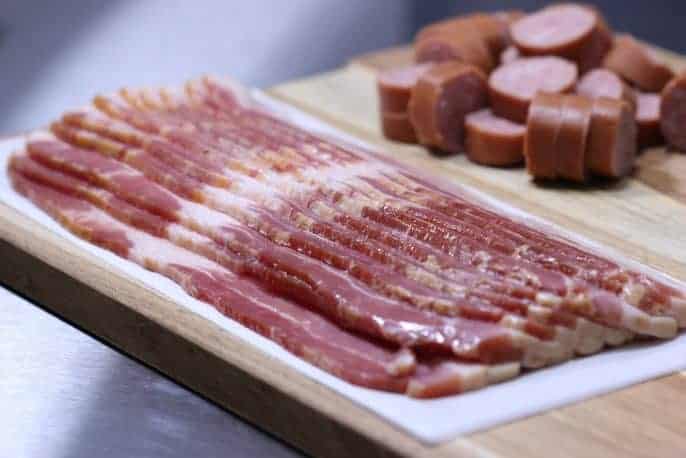 The thick cut bacon needs to be cut in half. There were 11 slices in the package that I picked out and after cutting them in half, that's enough for 22 pig shots. Perfect!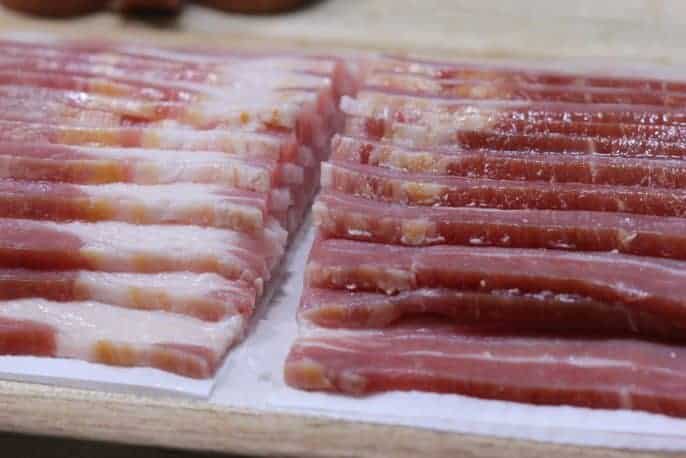 Step 2: Make the Cream Cheese Filling
Leave the cream cheese sitting on the counter for about an hour, longer is ok, so it's nice and soft.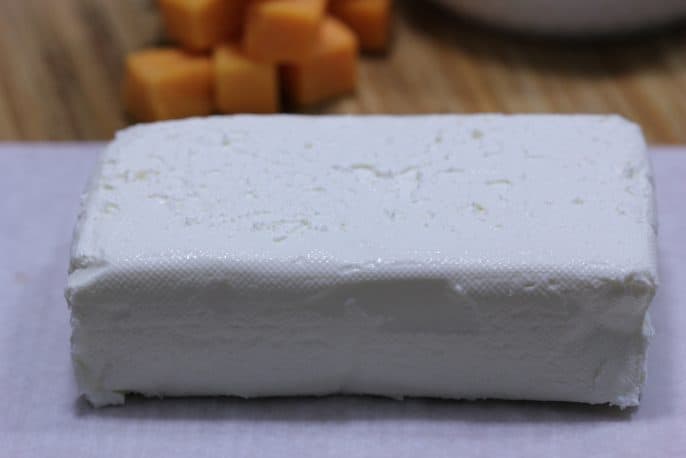 When you're ready to make the cream cheese filling, unwrap the cream cheese and place it into a small mixing bowl with about 3 tablespoons of my original rub (purchase recipes here).
Mix it up well.
Place the mixture into a quart sized zip top bag and then snip a small bit of the corner from the bag so you can do some "piping".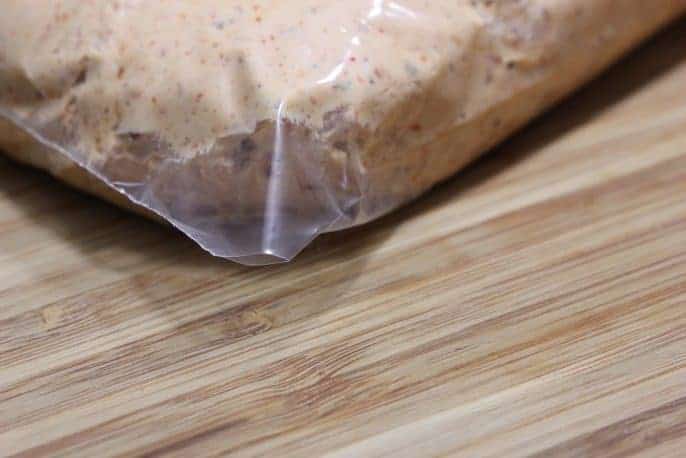 Step 3: Cube the Cheddar Cheese
Full disclosure, I purchased some cheddar already cubed up but you can easily purchase a block or you may already have some in the fridge and cube it yourself.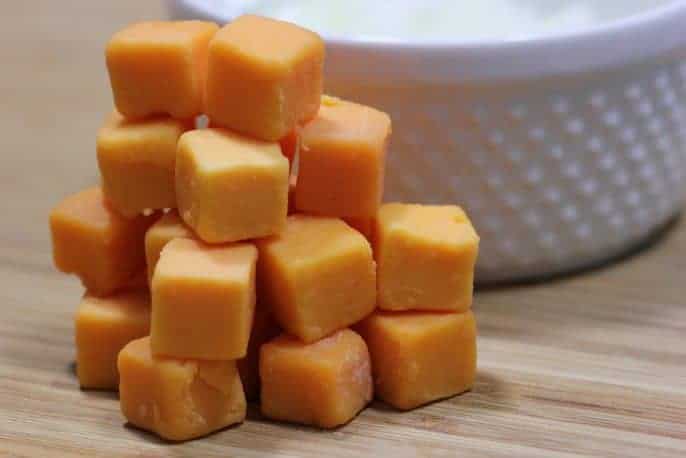 In the past, I have mixed cheddar or another grated cheese mixture into the cream cheese and, while this is good, I wanted a big gush of melted cheddar when I bit into the pig shots. This method gives you that.
Wrap a half slice of thick bacon around a piece of the sausage and secure it all the way through with a toothpick. This will get easier after you've done a couple.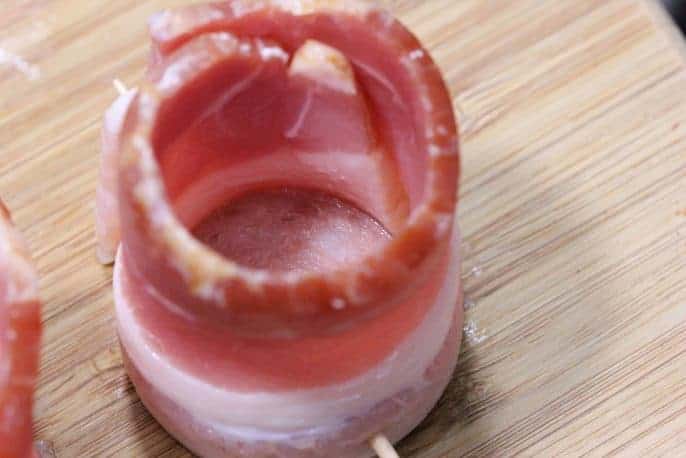 Step 5: Fill with Cheddar, Cream Cheese, Onion and Rub
Place a cube of cheddar down in the cup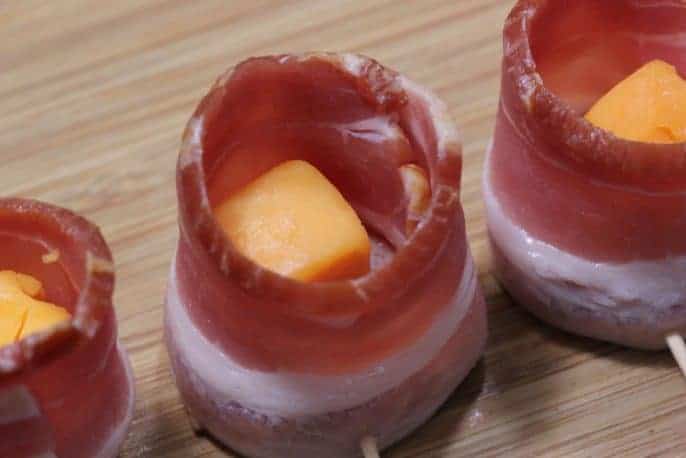 Pipe it almost full with the cream cheese filling.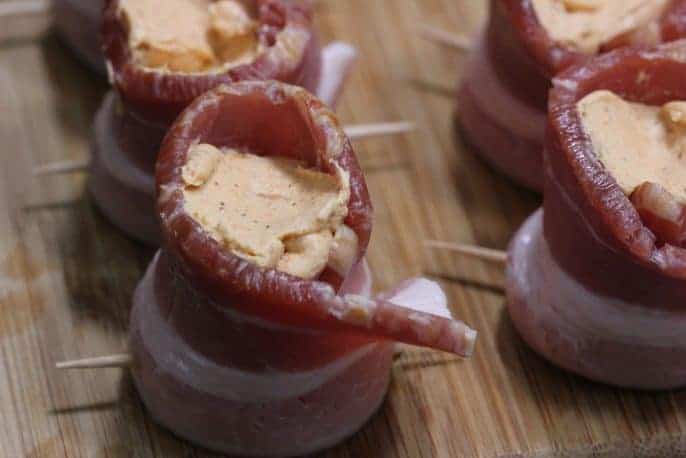 Spoon in about a half teaspoon or more of diced onions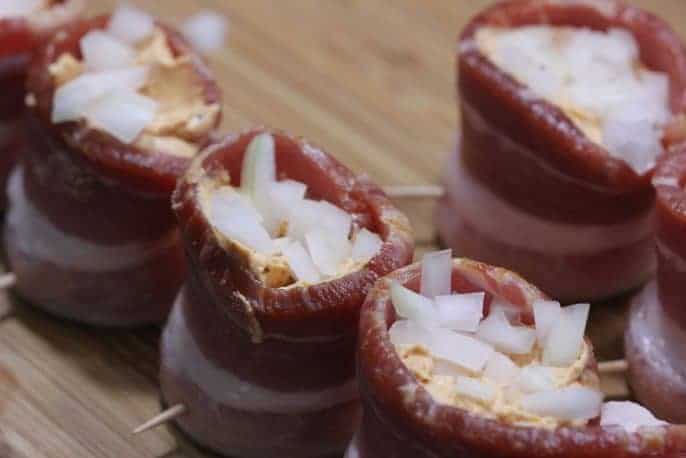 Sprinkle on some of my original rub (purchase recipes here) to complete.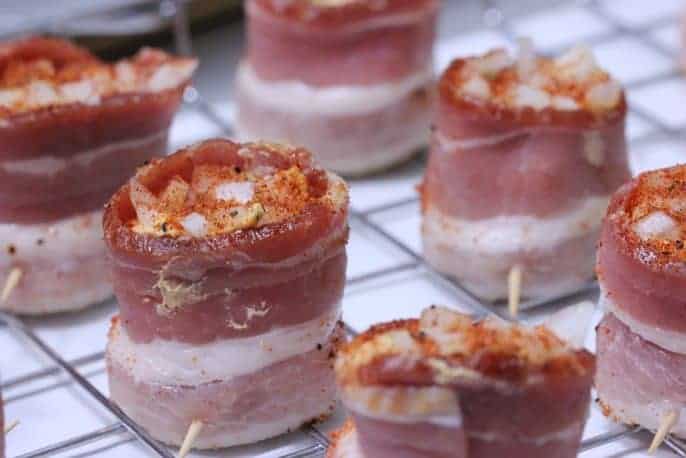 Step 6: Get the Smoker Ready
You can literally use any smoker or even a grill for these as long as you can set it up for indirect cooking at about 250°F. If your smoker won't cook that hot, you can maintain a lower temperature but they will take longer to finish.
If your smoker uses a water pan, fill it up.
Once the smoker is preheated and ready to go, we can start cooking these babies!
Place the tray of pig shots in the smoker and let them smoke with apple wood for about 1.5 hours or until the bacon has a good eating texture and the cheese is melted.
This is one of the few things that we cook that require no resting time. Just as soon as you pull them out of the smoker, they are ready to eat.