Slow Cooker Honey Garlic Chicken. Slow cooked chicken in a sweet and tangy Asian inspired sauce.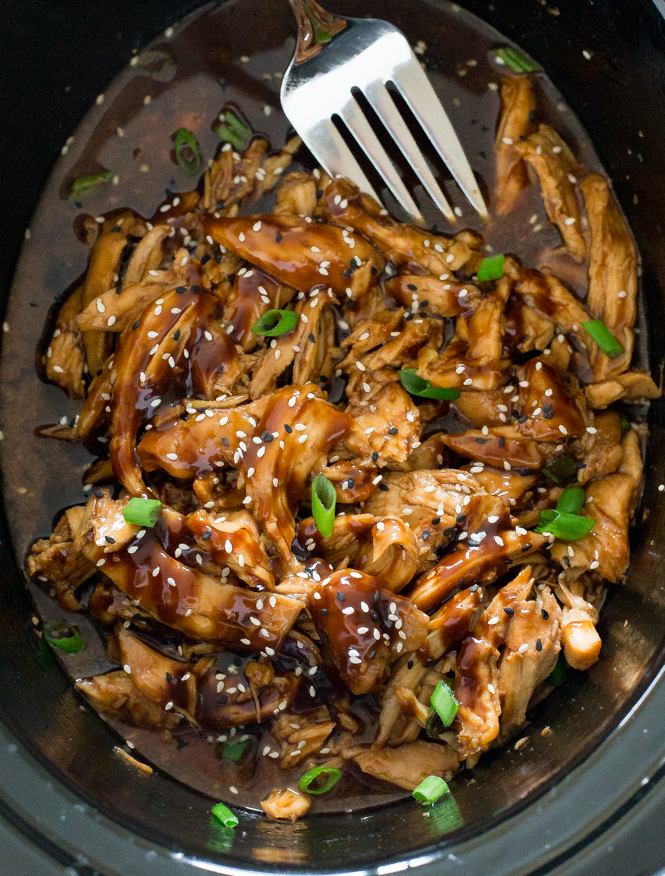 This Slow Cooker Honey Garlic Chicken takes only 10 minutes of prep time to throw everything together and is so delicious! All you have to do is mix up the sauce ingredients, chop up your garlic, ginger and green onions and throw it all in the slow cooker along with the chicken.
The chicken turns out incredibly juicy and tender by cooking it on low for 2-3 hours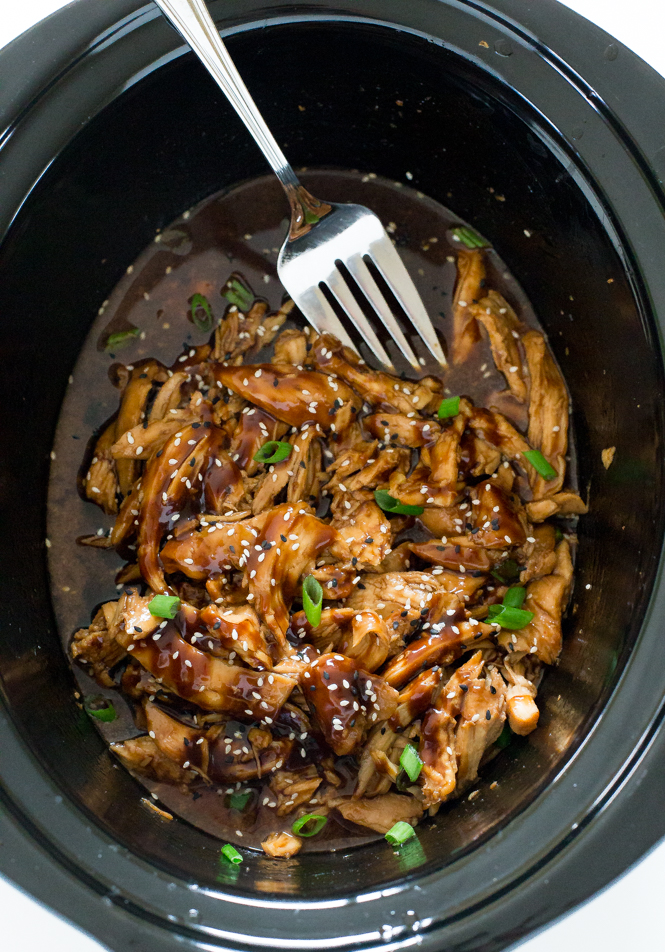 I made lots of sauce to go over the chicken with extra to serve over rice. It is sweet from the honey and tangy from the soy sauce. It also is loaded with tons of garlic and has a little kick from some sriracha.The sauce is made up of equal parts soy sauce and honey. I also add in sesame oil, hoisin sauce and rice wine vinegar. (These can all be found in the Asian or International section in your grocery store.)
After everything gets tossed into the slow cooker cook on low for 2-3 hours. I suggest checking it at 2 hours. (Mine took exactly 2 1/2 hours). It also depends on the size of chicken breast you are using. (Mine were pretty small)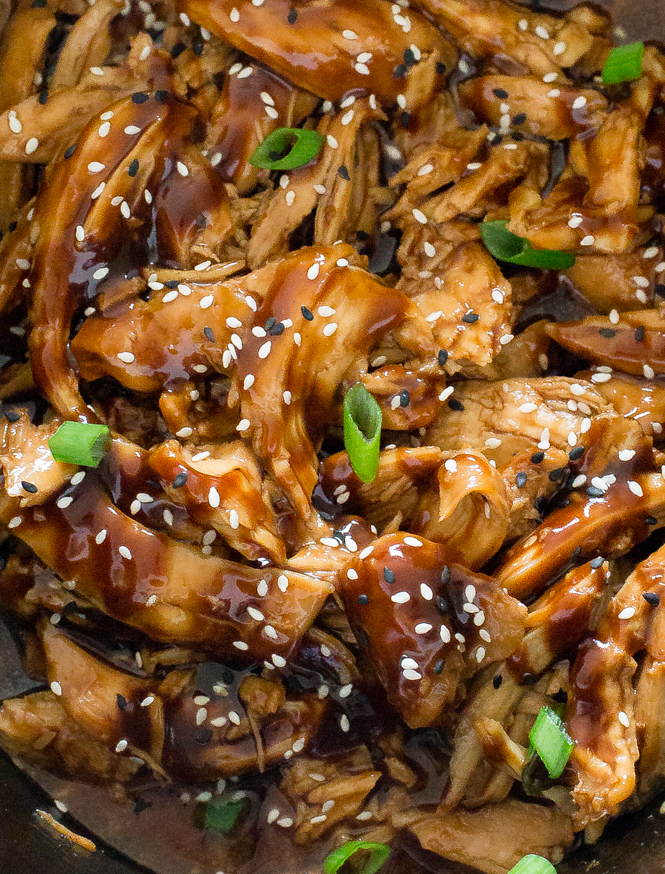 I like to serve this Honey Garlic Chicken with rice and broccoli. This is also awesome over
noodles
or
fried rice
!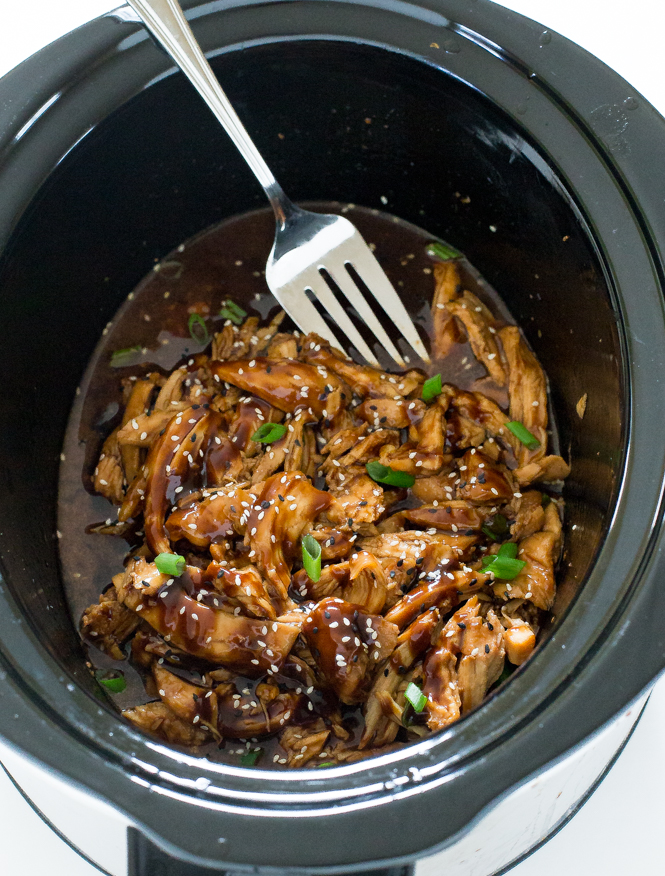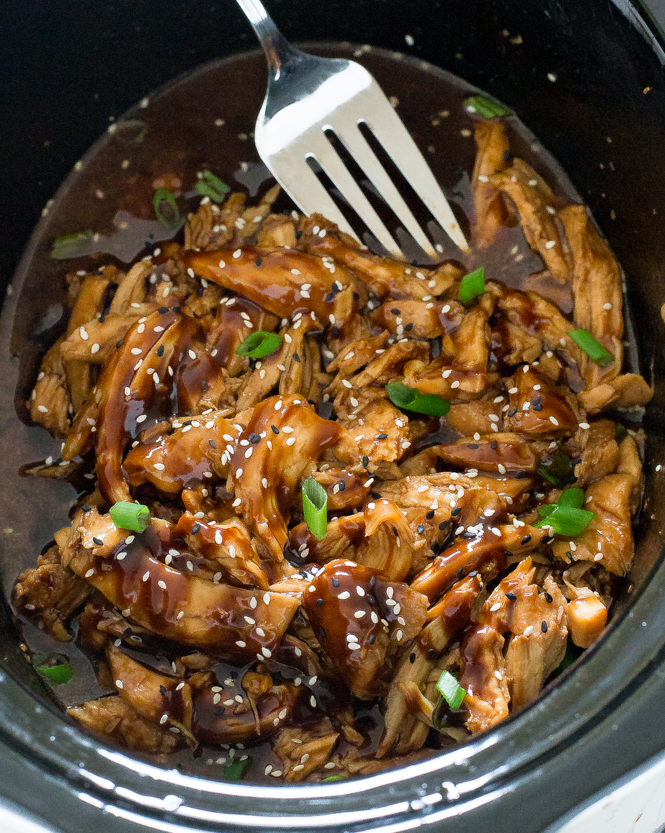 SLOW COOKER HONEY GARLIC CHICKEN
Slow Cooker Honey Garlic Chicken. Slow cooked chicken in a sweet and tangy Asian inspired sauce.
4 boneless skinless chicken breasts (2 pounds)
½ cup low sodium soy sauce
½ cup honey
¼ cup hoisin sauce
1 tablespoon rice wine vinegar
1 teaspoon sesame oil
1 teaspoon ginger, grated
4 cloves garlic, minced
2 scallions, sliced thin, divided (white parts for cooking, green for serving)
2 tablespoons water
1 tablespoon cornstrach
sesame seeds for garnish, if desired


INSTRUCTIONS
Place chicken in the bottom of the slow cooker.
In a medium bowl whisk together soy sauce, honey, hoisin, vinegar, sesame oil, ginger, garlic and the white parts only of the scallions.
Pour the sauce mixture ontop of the chicken and cook for 2-3 hours on low. (Cooking time depends on the thickness of your chicken. My chicken breasts were pretty small and took 2½ hours.)
Remove the chicken from the liquid and place on a plate or cutting board. Allow the chicken to rest for a couple of minutes and then shred with two forks or slice it up with a knife.
Transfer the liquid from the slow cooker to a small saucepan.
Whisk 2 tablespoons of water with 1 tablespoon of cornstarch. Slowly add the cornstarch mixture to the sauce.
Cook on high until bubbly and thickened, whisking constantly. Pour the sauce back in the slow cooker along with the shredded chicken and toss to coat.
Serve immediately with sesame seeds and green onions for garnish.
NUTRITION INFORMATION