These Sausage Stuffed Portobello Mushrooms are a delicious low carb dinner! A savory sausage tomato sauce topped with gooey, melty cheese on top of an umami portobello mushroom! Make this umami bomb for dinner tonight!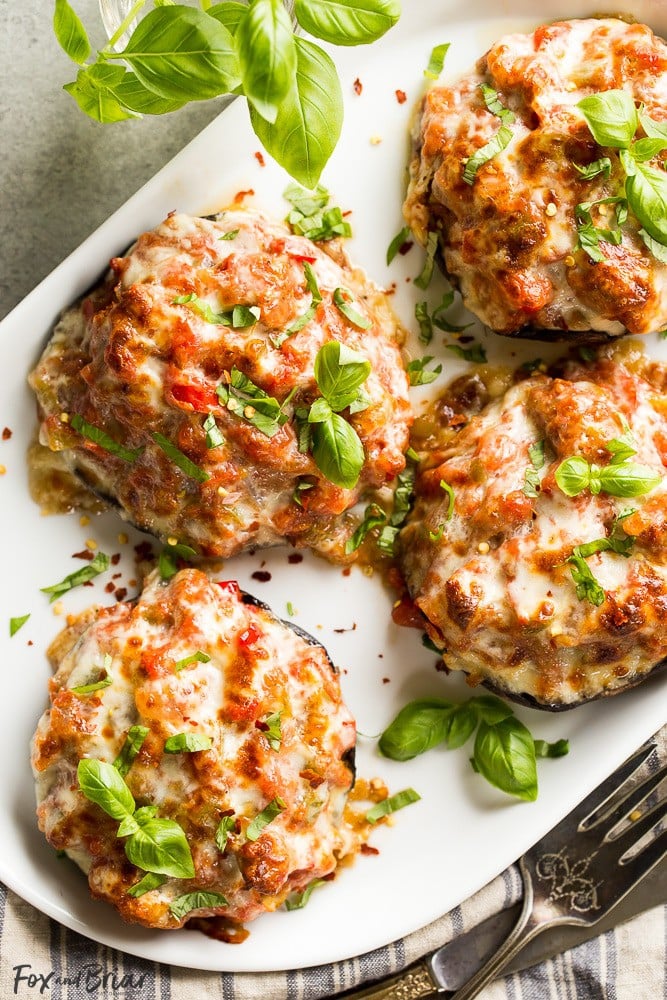 SAUSAGE STUFFED PORTOBELLO MUSHROOMS
Ahhh, you guys. These Sausage Stuffed Portobello Mushrooms are my new favorite thing, I'm not even kidding. You know I love using vegetables as a carb replacer like with THESE bell peppers or THESE bell peppers or ALL the spaghetti squash. PS, spell check is telling me that "carb replacer" isn't a thing? Um, I have to disagree, carb replacer is TOTALLY a thing, and these Sausage Stuffed Portobello Mushrooms are totally one of them. Those? Anyhoo.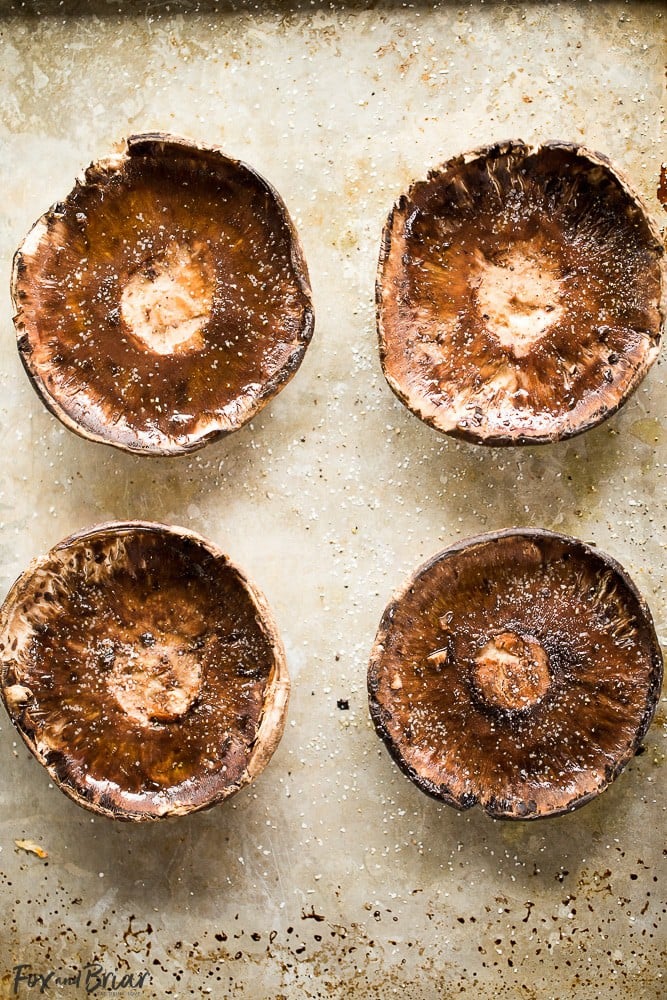 IS IT "PORTOBELLO" OR "PORTABELLA"?
Apparently they are both used and considered correct. So, use whichever one you like. AS for this sausage stuffed portobello mushrooms recipe, here is how this works. First you make a delicious, savory, lip smacking sausage marinara sauce. Then you fill some beautiful portobello mushroom caps with said sausage marinara. Then you top with lots of mozzarella. Then you bake. Holy moly.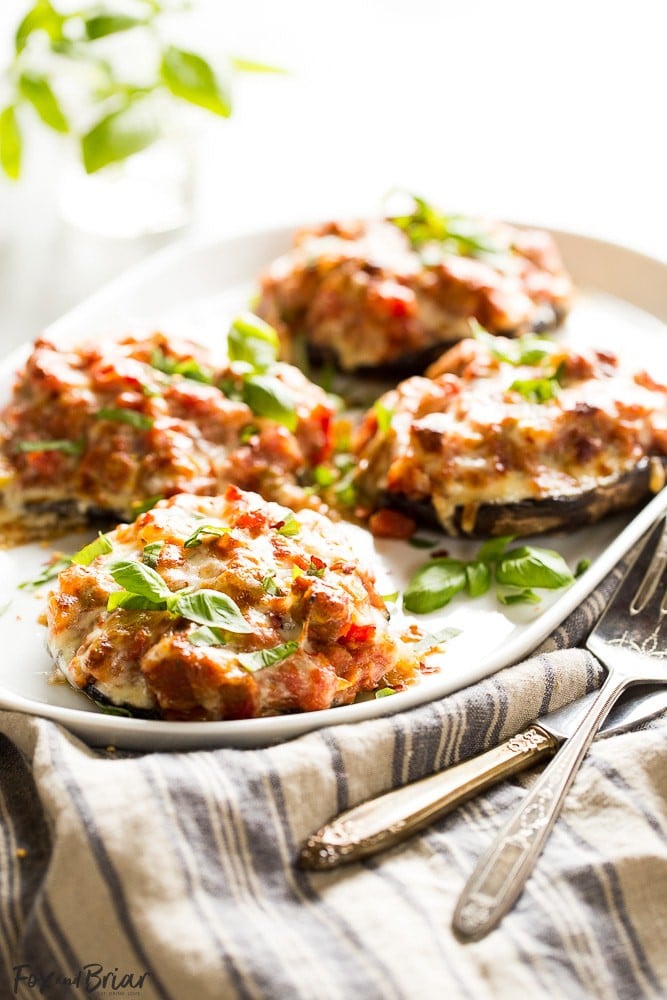 Word to the wise, this makes a TON of sauce. Like enough for 8 mushrooms. As much as I love them, that would be 4 meals for me and the mister. So I usually make 4 mushrooms, which we have for dinner and lunch the next day. Then I save half the sauce for another dinner. Hello! This is a multi tasking recipe! You can even meal prep! Or you can make 8 mushrooms, maybe you have 8 hungry kids that love mushrooms, I don't know. Either way, you have some delicious, savory, cheesy, sausage stuffed portobello mushrooms in your future.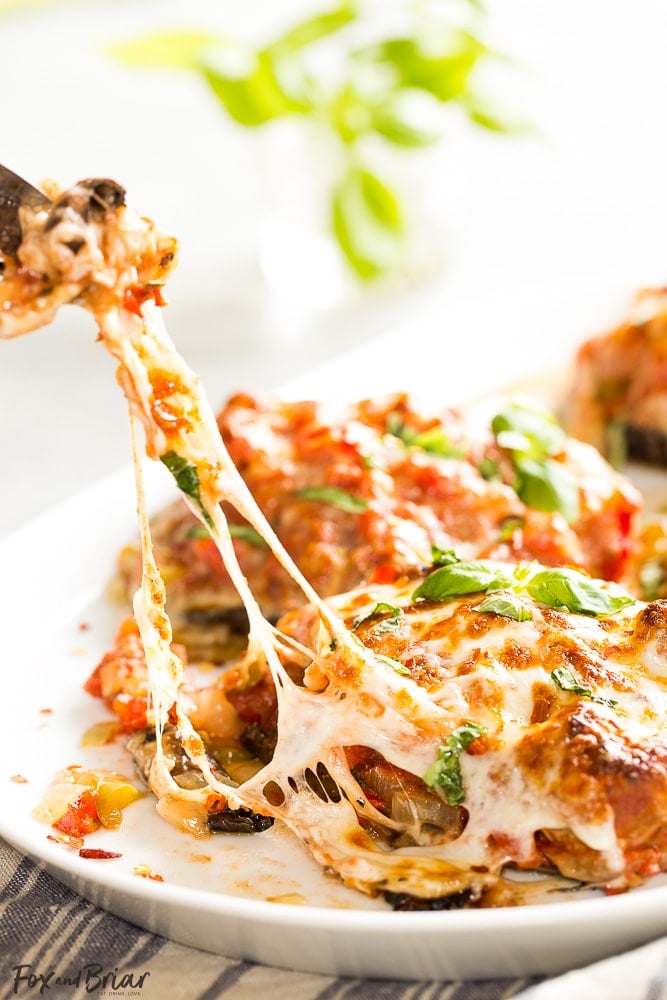 SAUSAGE STUFFED PORTOBELLO MUSHROOMS


INGREDIENTS
8 Portobello mushrooms, stems and gills removed
1 pound hot Italian Sausage
2 Tablespoons olive oil
1 onion, diced
1 red bell pepper, diced
1 green bell pepper, diced
4 garlic cloves, minced
1 teaspoon oregano
28 ounce can crushed tomatoes
16 ounces mozzarella cheese, grated
salt
pepper
fresh basil for garnish (optional)


INSTRUCTIONS
Preheat oven to 375 degrees.
Remove stems from mushrooms and use a spoon to scrape out the gills. Arrange on a baking sheet, brush with olive oil and season with salt and pepper. Set aside.
In a saute pan over medium heat, brown the sausage. Remove from pan. Add 1 tablespoon olive oil. When hot, add the onions and bell peppers, season with salt and pepper. Saute until they have released their water and water has evaporated, and they are soft and starting to turn golden.
Add the garlic and oregano, saute for 30 seconds. Add the crushed tomatoes and the sausage back into the pan, stir. Simmer for at least 20 minutes to let flavors combine.
Spoon sausage mixture into the mushrooms, top with shredded cheese.
Bake for 15 minutes, or until cheese is melted and mushrooms are tender. Finish under the broiler for 1-2 minutes to brown cheese, if desired.
Garnish with fresh chopped basil if desired.


NOTES
* I usually only make 4 mushrooms, then save the rest of the sauce for another meal. You could also cut the sauce recipe in half if you don't want to make such a large serving.