Dutch Baby Pancakes Are A Super Simple, Fun, And Delicious Breakfast That The Whole Family Will Love. Similar To German Pancakes (But Made In A Rounded Skillet), These Dutch Babies Are Simple And Can Be Topped With Powdered Sugar, Syrup, Berries, Jam.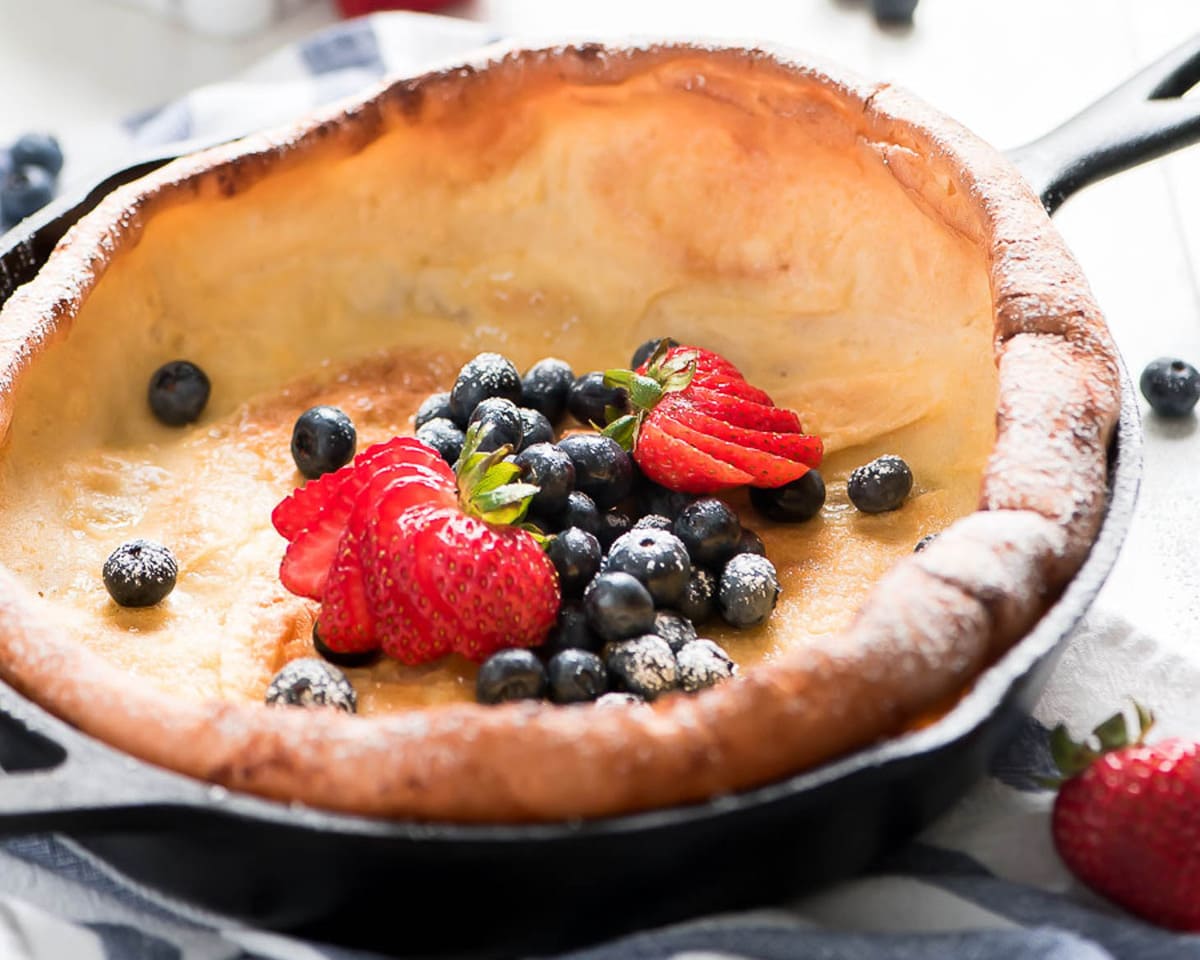 What is a Dutch Baby?
Dutch Baby Pancakes are one of my absolute favorite breakfasts. My mom would make this all the time when I was little and then when I was a teenager, my brother and I would make it for ourselves on the weekends. But, what are they exactly?
A Dutch baby pancake, sometimes called a German pancake, a Bismarck, or a Dutch puff, is an American baked pancake that can be served for breakfast, brunch, lunch or dessert. It is derived from the German Pfannkuchen.
So, are they really that different from German Pancakes? Other than these Dutch Babies using a little more butter, the real difference between the two is how they're made. Dutch Baby Pancakes are usually made in a dutch baby pan or skillet with rounded edges. German Pancakes are typically made in a baking pan or casserole dish. Also, if fruit is involved, most people put the fruit on top of their Dutch Babies while baking it IN their German pancakes.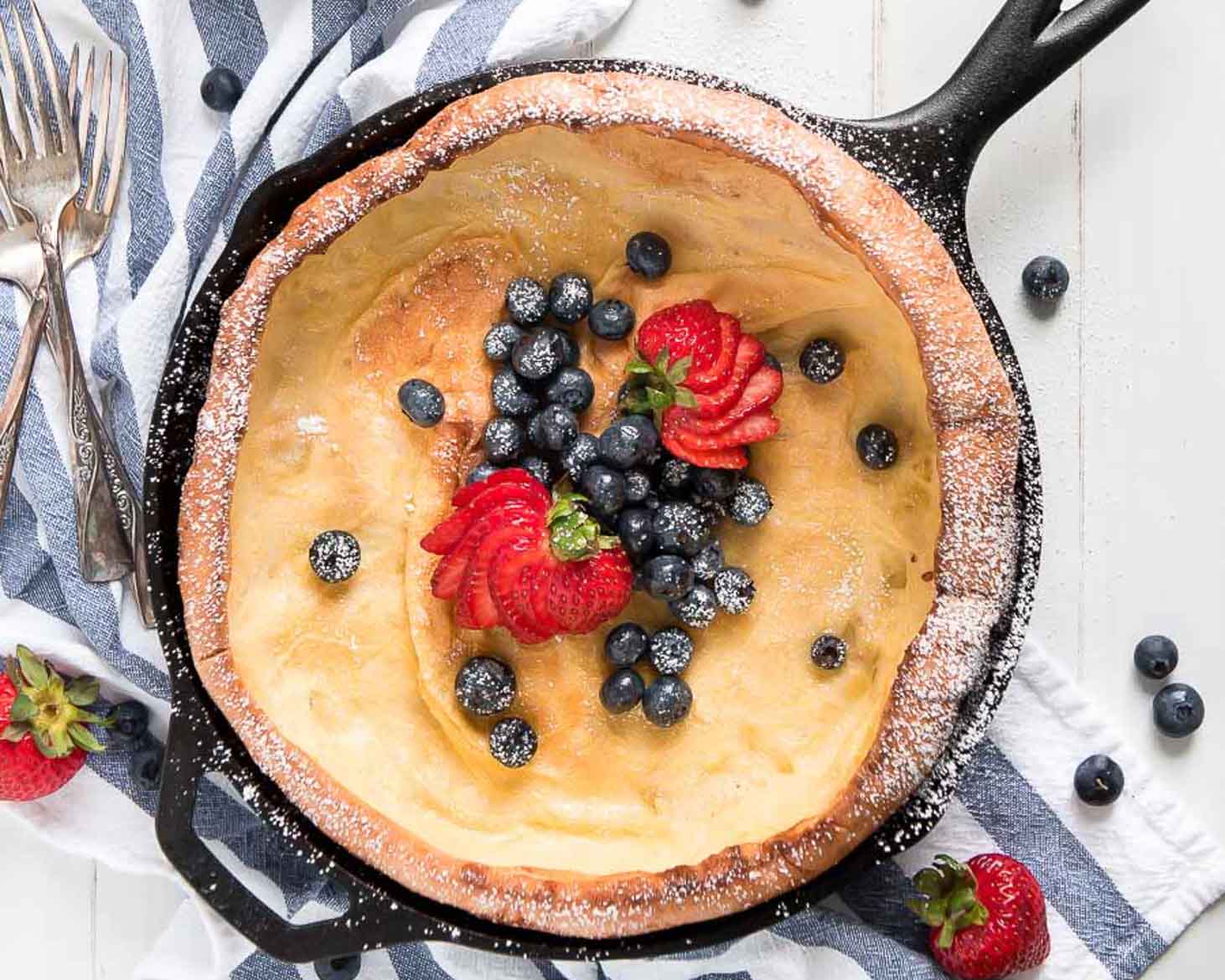 How to make Dutch Baby Pancakes:
These are seriously the easiest pancake to make. It has few ingredients and since it bakes in the oven you only have like a .001% chance of burning it. When it comes to regular pancakes, I almost always burn one or two.
You'll start out by preheating your oven to 425 degrees F. That seems high but you need it that high to make that baby grow. Watching the Pancake rise in the oven was and even still is so fun and exciting to see.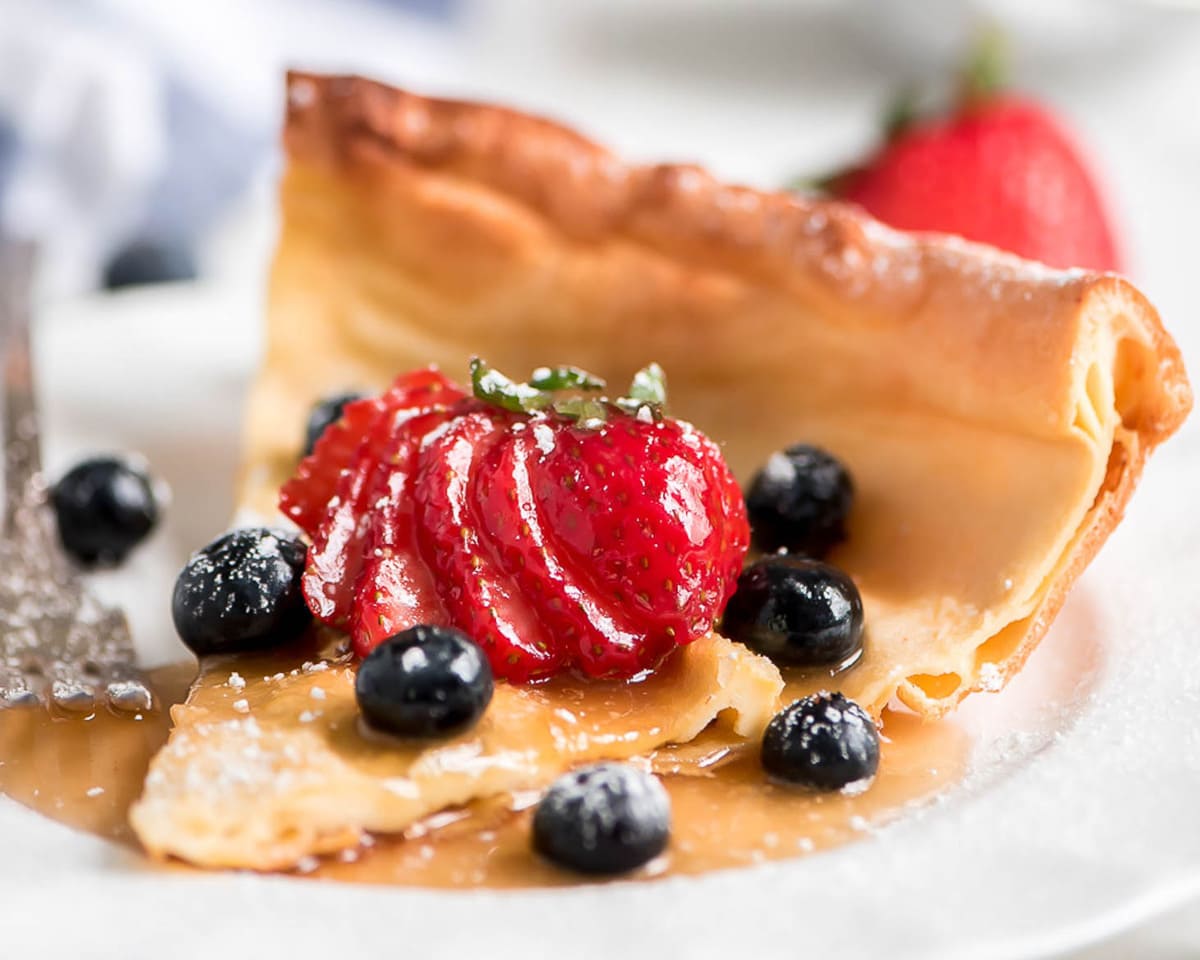 Next, whip up the batter. This is almost as easy as mixing Bisquick and water together! The batter is just 4 simple ingredients– flour, milk, eggs, and salt. Some recipe say to mix it all in a blender but I just hate cleaning my blender so I always just use a bowl and whisk. To make sure your get all the flour lumps out, slowly add the milk into the flour while whisking. If you have a few lumps, no biggie. Then just whisk in the eggs and salt and you're done! Easy peasy!
While you're still waiting for the oven to come to temperature, place the butter in your skillet (cast iron works beautifully) and let it melt over medium-low heat. You don't want it to brown, so keep and eye on it and once it's almost melted, take it off the heat, add in the batter and pop that baby in the oven to do its magic.
Meanwhile, you can prep the toppings. You can go as simple as just syrup or powdered sugar (or both!), or slice up some fresh berries, set out some homemade Raspberry Peach Freezer Jam, or whip up some delicious Buttermilk Syrup (my favorite!).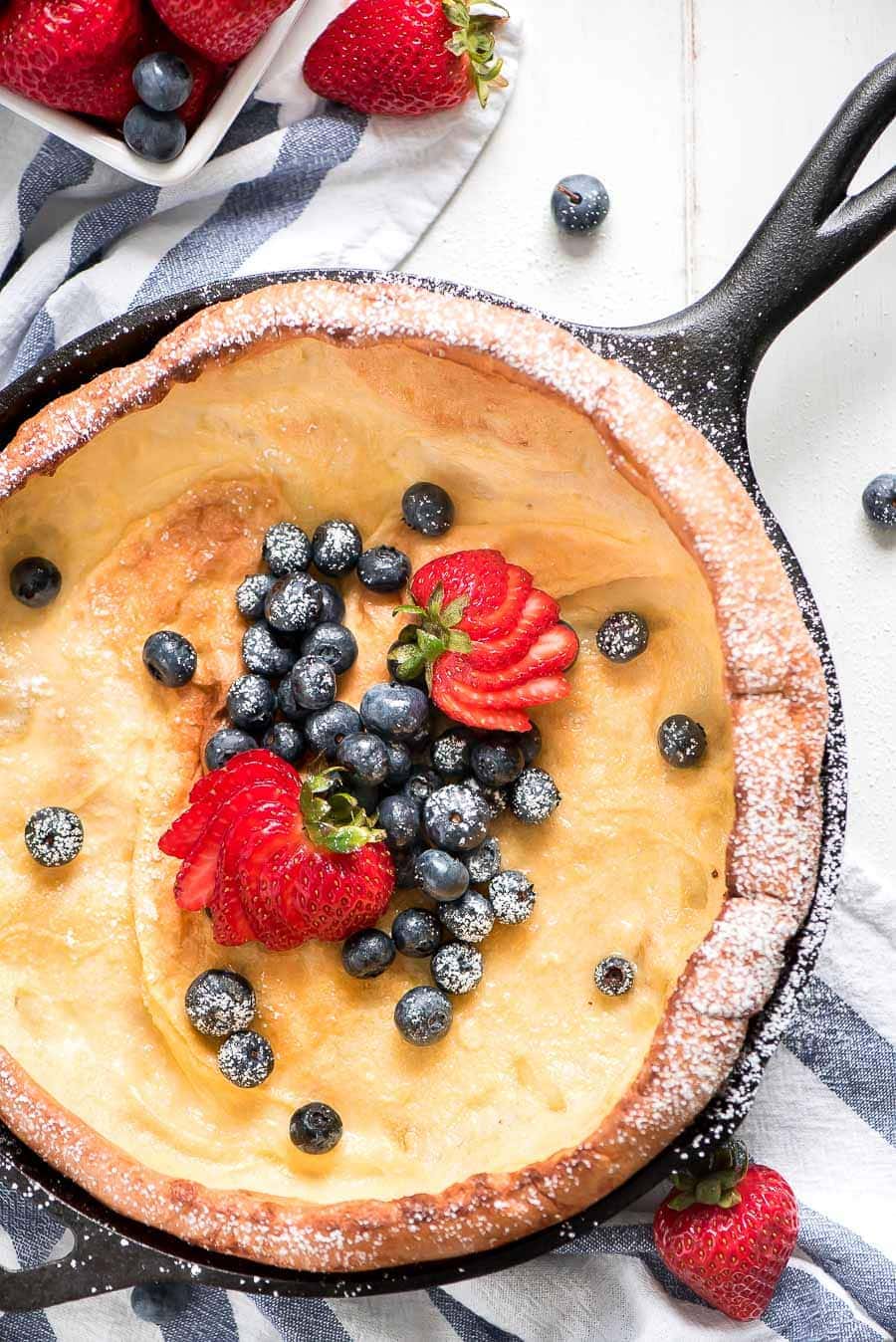 Can I make Substitutions:
Unfortunately this recipe doesn't work great for making substitutions. There are only 3 ingredients (four if you count salt) and all are things I'm sure you always have on hand. The eggs are what make this pancake rise up so substituting the eggs totally changes the look and texture. I've tried whole wheat flour to try to be a little healthier but that caused the pancake to not rise up much. As for the milk, I've only tried making these with 1% and 2% milk because that is what we drink. I don't buy milk substitutes but if you do, give it a try and let me know how it works.
Make these this weekend! I'm sure your family will love them and be begging for more. Enjoy!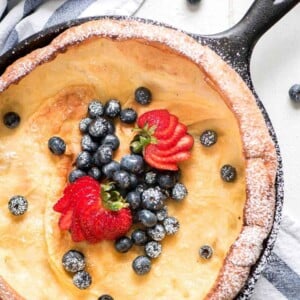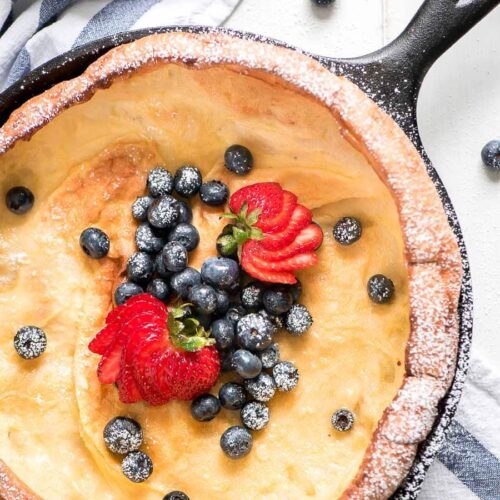 Dutch Baby Pancake Recipe
Dutch Baby Pancakes are a super simple, fun, and delicious breakfast that the whole family will love. Similar to German Pancakes (but made in a rounded skillet), these dutch babies are simple and can be topped with powdered sugar, syrup, berries, jam.
INGREDIENTS
1/2

cup

all-purpose flour

1/2

cup

milk 1% or 2%

3

large eggs

1/8

teaspoon

salt

1/4

cup

butter
For the Toppings:
powdered sugar

fresh berries

syrup
INSTRUCTIONS
Preheat oven to 425 degrees F.

Place flour in a medium mixing bowl. Whisk in the milk a little at a time until smooth. Whisk in the eggs and salt. Set aside.

Melt butter in a 10 inch oven proof skillet over medium-low heat. Once melted, remove from heat, pour in the batter, and place pan in the oven for 15 minutes until pancake is puffed and golden. Lower oven temperature to 300 degrees F and cook 5 more minutes. Remove from oven, slice, and serve topped with berries, powdered sugar, and syrup.
Nutrition Facts
Dutch Baby Pancake Recipe
Amount Per Serving
Calories 224
Calories from Fat 135
% Daily Value*
Total Fat 15g23%
Cholesterol 156mg52%
Sodium 234mg10%
Potassium 102mg3%
Total Carbohydrates 13g4%
Protein 6g12%
* Percent Daily Values are based on a 2000 calorie diet.