Chili Lime Chicken - moist and delicious chicken marinated with chili and lime and grill to perfection. Easy recipe that takes 30 mins.
I received an email last week from Katie Rosen Kitchen on this
chili lime chicken recipe
that I just couldn't resist. I didn't make it in time for the Memorial weekend BBQ but I made sure that I tried the
recipe
this week. Oh boy, I am so happy I did. This
chili lime chicke
n was absolutely delicious, juicy, flavorful, hitting all the right notes: citrusy, aromatic, with a pleasant nuance of the cilantro and garlic. I made a small serving and regretted immediately that I didn't make more as they were gone in no time.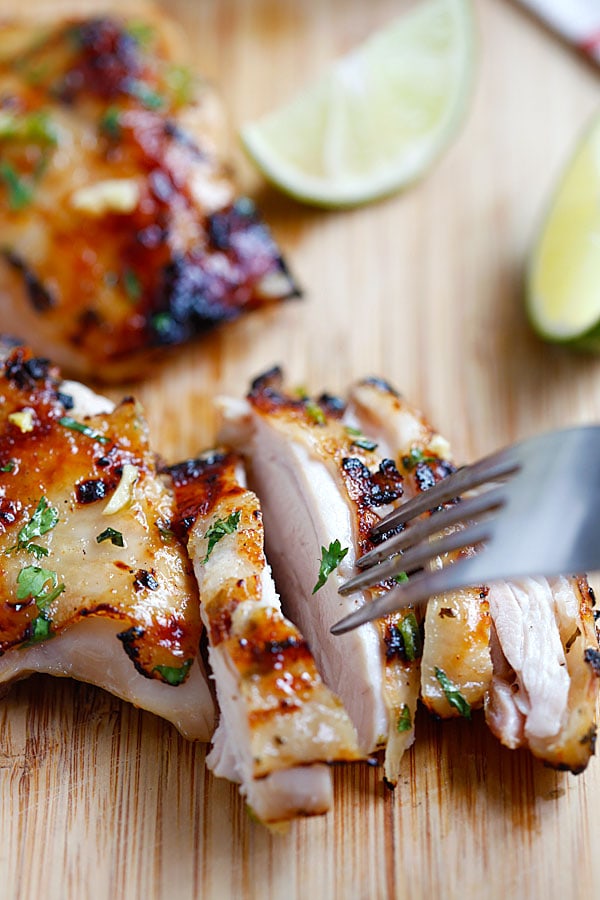 My friend J came to my house to grill the chicken with me and the aroma while we were grilling was wafting through my neighborhood. It was mouthwatering. For the chicken, the original recipe calls for chicken breast but I opted for
chicken
thighs with the skin and bone. I removed the bones prior to marinating the chicken and still keep the skin. The end result is crispy skin, and tender juicy
chicken
meat.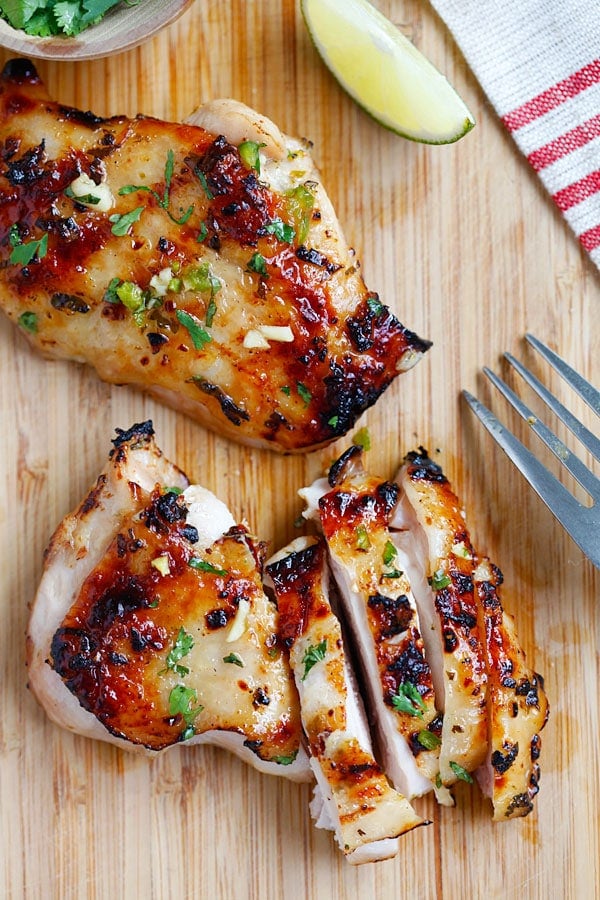 Chili lime chicken - moist and delicious chicken marinated with chili and lime and grill to perfection. Easy recipe that takes 30 mins!
Ingredients
Ingredients:
2 - 2.5

lbs

skin on chicken thighs
Marinade:
1/2

cup

fresh lime juice

3

teaspoons

fresh lime zest

1/4

cup

olive oil

4

tablespoons

fresh cilantro

chopped finely

2

jalapeño

chopped finely

4

garlic cloves

chopped finely

1

tablespoon

honey

2

teaspoons

salt

1

teaspoon

chili powder or to taste
Instructions
Rinse the chicken thighs, remove the bones, leave the skin on, and pat dry with paper towels. Set aside.

Get a big bowl, mixing all the ingredients of the Marinade together using a whisk. Make sure the Marinade is well combined together.

Add chicken to the Marinade, make sure to stir and coat the chicken evenly. Marinate for 2 hours.

Fire up the grill, brush a little bit of oil on the surface. Add a little bit of the garlic, cilantro, and jalapeno from the Marinade on top of the chicken and grill them until they turn golden brown and charred on both sides. Serve immediately.
Recipe Notes
You can make this chili lime chicken with a cast-iron grill pan or regular skillet, or bake in the oven. Preheat the oven to 400F and bake it for about 20-25 minutes or until the skin becomes brown and charred. You can also use skinless and boneless chicken thighs or breasts.