This is an amazing Indian chicken tikka masala recipe — it's restaurant quality, made from scratch, and easy to make. The chicken is tender and flavorful, and the sauce is creamy, thick, and decadent. It's also low carb, keto, and gluten free.
Making your own Indian food at home without store-bought sauces may seem daunting, but in practice it's a lot easier than it sounds. After marinating the chicken, only about 20 minutes is spent simmering the sauce on the stove. This homemade version is perfect for days when you're craving Indian food but you don't feel like going out to eat!
MY HISTORY WITH CHICKEN TIKKA MASALA
Let me provide some background on my relationship with chicken tikka masala. My obsession with it started about a decade ago, when I was living with a roommate who introduced me to the world of Indian food. I fell in love with chicken tikka masala and since then, I've ordered it every time I've seen it on a menu.
On average, I eat chicken tikka masala a few times a week — whether it be at a restaurant, the store-bought frozen kind (anyone else equally obsessed with Trader Joe's frozen chicken tikka masala?), or various homemade ones. I've experimented with more chicken tikka masala recipes than I can count, and this recipe is my favorite. It's the perfect combination of not-too-complicated (I've tried to pare it down to the essentials) and super tasty (I can't tell the difference between this recipe and the kind I've had in restaurants).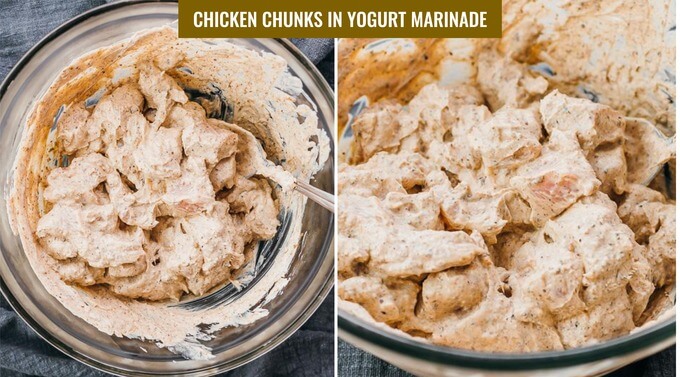 YOGURT MARINADE
I use plain Greek yogurt with 2% fat, and I prefer the FAGE brand which comes in 7 ounce containers. I've bought them at both Trader Joe's and Whole Foods. If you don't use FAGE, pick one that's relatively low in carbs, about 6g per 7 ounce container.
The marinade should have a very thick consistency that easily coats the chicken chunks. It shouldn't be thin or watery.
The chicken should marinade for at least an hour in the refrigerator. I've marinated as long as a few hours and a few readers have marinated overnight.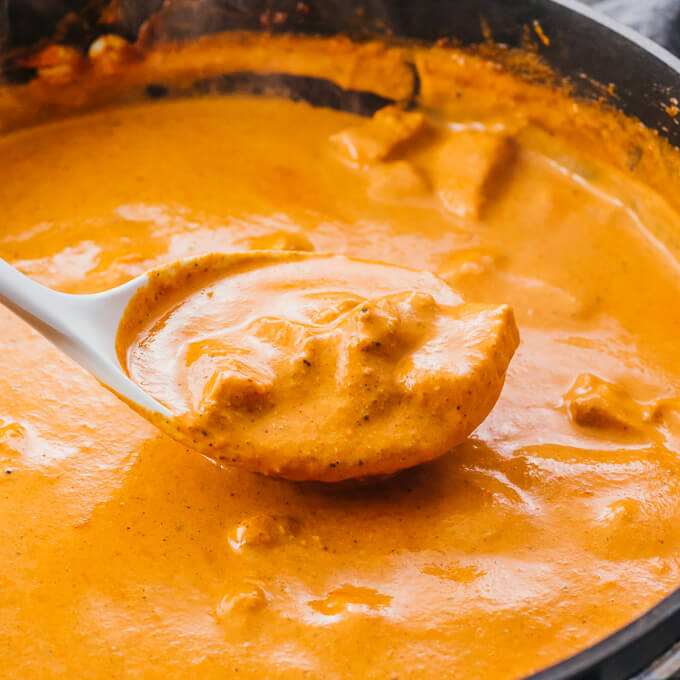 COOKWARE & ALTERNATE COOKING METHODS
I typically use a 10-inch nonstick pan, as shown in these photos. The pan is about 2 1/2 inches deep and has a volume capacity of 3 quarts. Any nonstick pan with similar dimensions will work well. You don't need a lid for this recipe.
This recipe is one of several methods I've used to make chicken tikka masala. I also have recipes for Crockpot or Slow Cooker Chicken Tikka Masala and Pressure Cooker or Instant Pot Chicken Tikka Masala.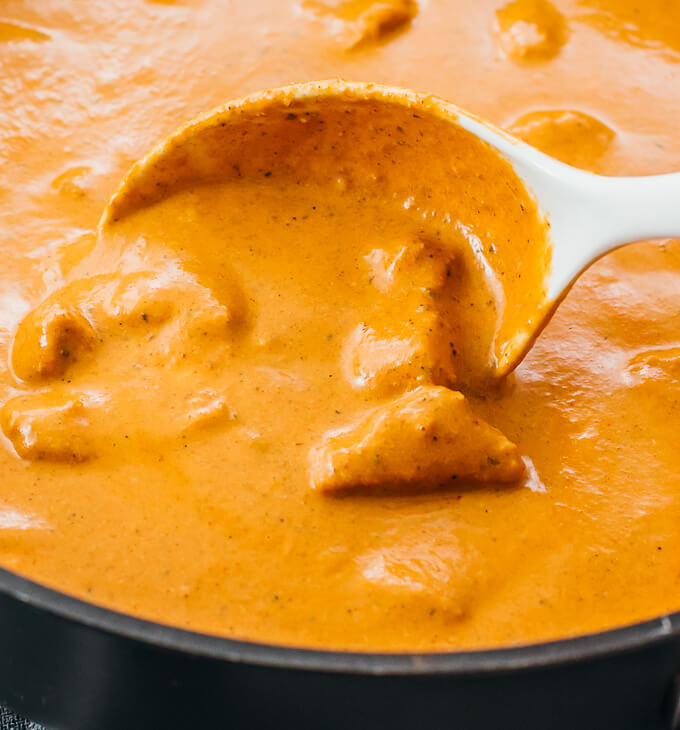 ALL ABOUT TIKKA MASALA SAUCE
What is it?
Tikka masala sauce is simply tomato sauce mixed with heavy whipping cream and spices, most importantly garam masala. The sauce is simmered until thick and flavorful.
Where to buy garam masala?
Garam masala is a mix of dried spices including cumin, cardamom, cinnamon, cloves, nutmeg, and others. You can pick up this dried Indian spice mix at supermarkets like Whole Foods, or purchase online at
Amazon
. A small amount will last you a long time, through many homemade chicken tikka masala dinners.
Is it spicy?
While this sauce is certainly heavy on spices, it's not that spicy or hot. I usually add jalapenos or cayenne, but it's optional if you can't handle the heat.
Substitutes for cream?
I'm often asked whether heavy whipping cream can be substituted for something else. Personally, I prefer the texture and taste of the sauce with heavy cream, but I know that many readers have had success using less heavy cream, or substituting all or some of the heavy cream with half and half or coconut milk. It'll result in a thinner sauce but will likely still taste quite good. Note that these substitutions will result in a different net carb count.
Does this make a lot of sauce?
This recipe makes a very generous amount of tikka masala sauce. Extra sauce is always appreciated for pairing with side dishes (see suggestions in the next section). If you don't anticipate needing all that extra sauce, you can certainly increase the amount of chicken so that the sauce-to-chicken ratio isn't so high.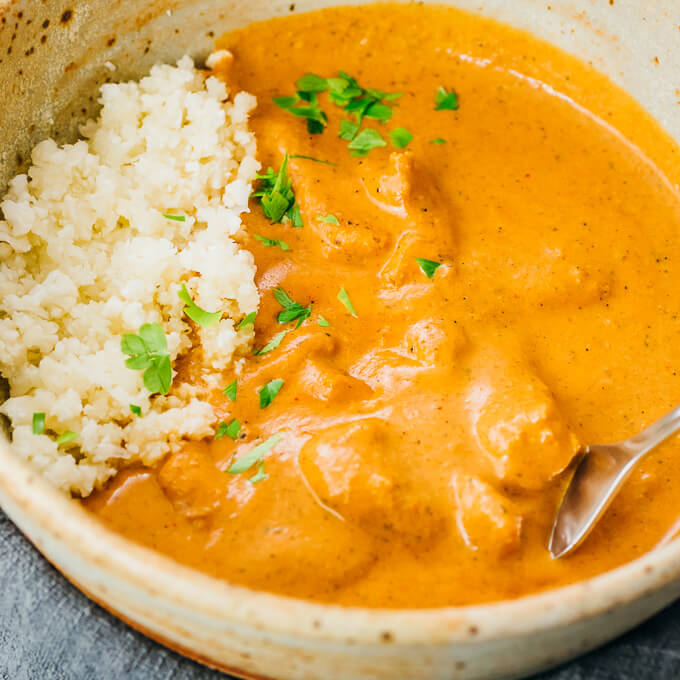 SERVING IDEAS
Given all the sauce that this recipe makes, I highly recommend preparing complementary side dishes to help sop up the extra sauce. Since I follow a low carb diet, I usually pair with plain cauliflower rice (as photographed here) instead of the usual Indian sides like basmati rice and naan.
You can make cauliflower rice a number of ways. First, you can buy pre-riced bags in the refrigerated section of many grocery stores, including Trader Joe's and Whole Foods. This is what I usually do to save time. Or you can use a food processor or hand grater to break down cauliflower florets into rice-sized pieces. Then you can cook them by microwaving or pan-frying with a bit of oil until tender. I usually prefer the pan method as used in my
bacon kimchi cauliflower fried rice recipe
because microwaving can yield soggy rice.
You can also serve chicken tikka masala with a variety of vegetables including onions, tomatoes, carrots, beans, peas, cauliflower, broccoli, and potatoes. Many of these vegetables are quite high in carbs, so I usually avoid them.
Best Chicken Tikka Masala Recipe
An amazing Indian chicken tikka masala recipe — restaurant quality, made from scratch, and easy to make. The chicken is tender and flavorful, and the sauce is creamy, thick, and decadent. It's also low carb, keto, and gluten free.
Ingredients
For marinating the chicken:
12

ounces

boneless skinless chicken breasts

chopped into 1/2-3/4 inch pieces

7

ounces

plain 2% fat greek yogurt (about 1 cup)

1

tablespoon

garam masala

1

tablespoon

lemon juice

1

teaspoon

black pepper

1/4

teaspoon

ground ginger
For the sauce:
15

ounce

can tomato sauce

1 1/2

cups

heavy whipping cream

1

jalapeño

seeded and diced (or 1/4 teaspoon cayenne)

5

cloves garlic

minced

4

teaspoons

garam masala

1/2

teaspoon

paprika

1/2

teaspoon

salt
For serving:
Instructions
Marinating the chicken

: In a large bowl, add all marinade ingredients except the chicken and stir until well-mixed. Add chicken chunks and stir to coat with the marinade. Refrigerate for at least 1 hour.

Sautéing the chicken

: Heat a wide 3 quart or larger pan over medium-high heat for a few minutes until hot. Add chicken chunks and any marinade sticking to them. Saute until the chicken is cooked on the outside, a few minutes, stirring and flipping occasionally. Add jalapeño (or cayenne) and garlic to the same pan. Stir with the chicken and cook until aromatic, about a minute.

Simmering the sauce

: Reduce to medium heat. Add tomato sauce, heavy cream, garam masala, paprika, and salt. Mix well. Bring to a simmer. Let the sauce simmer for about 20 minutes until it thickens a bit and develops an orange color, stirring occasionally. Reduce the heat as necessary to maintain a simmer.

Serving

: Serve with cauliflower rice. Garnish with cilantro.