15 Minutes Churro Sticks – easy, crispy sticks made with puff pastry, rolled in melted butter and coated with cinnamon-sugar mixture, served with warm chocolate dipping sauce . It sounds like visit to Disneyland and eating your favorite, number one treat – Churros.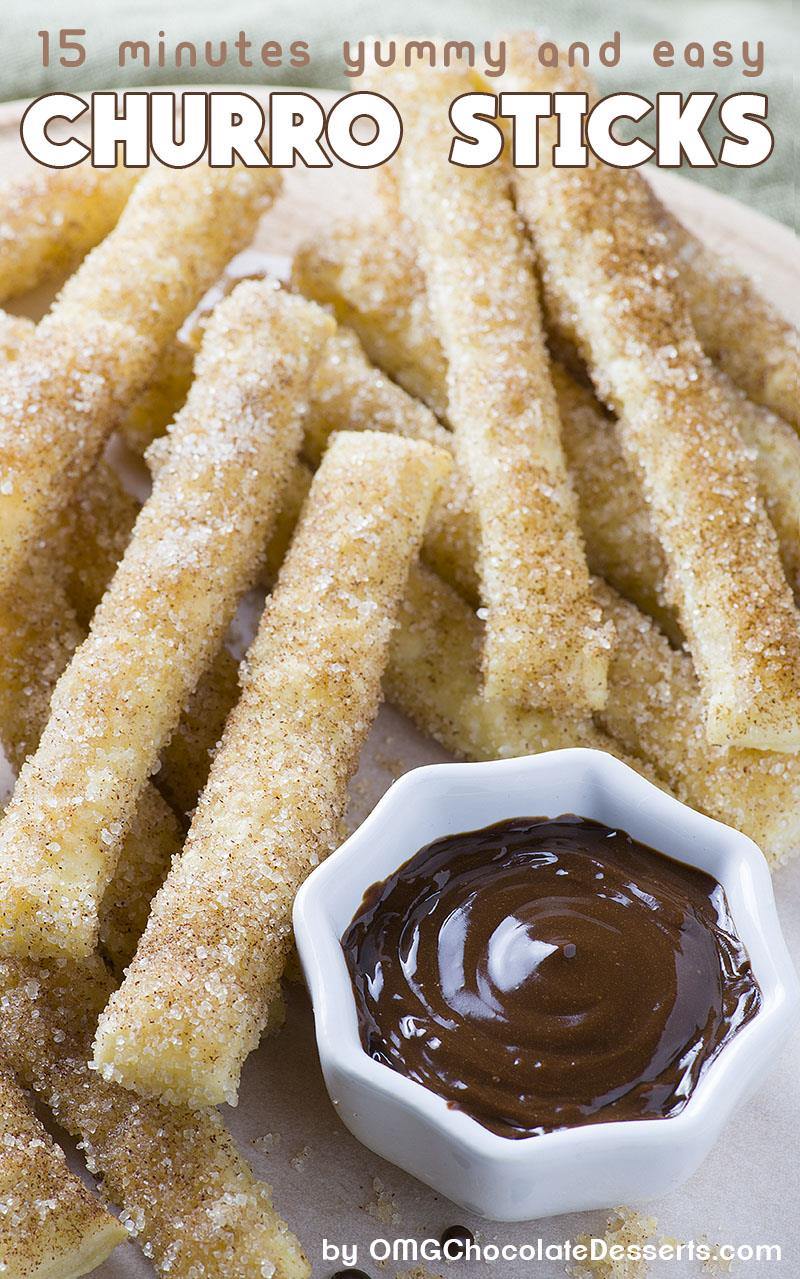 I just LOVE, LOVE how simple and easy they are to make. You will need 15-20 minutes top to make this amazing snack. You'll just have to wait half an hour to thaw your puff pastry, and then in no time crispy Churro Sticks will be on the table.
I'm a huge fun of Churros but squeezing dough into a pot of boiling oil and then fishing each one before it become too brown, doesn't sound like a lot of fun, at least for me. So when I saw this simple way to make churros at home using puff pastry and baking them in the oven instead frying in hot oil, I had to try it. Why have I never thought to use puff pastry to make Churros before, it's such a great idea?!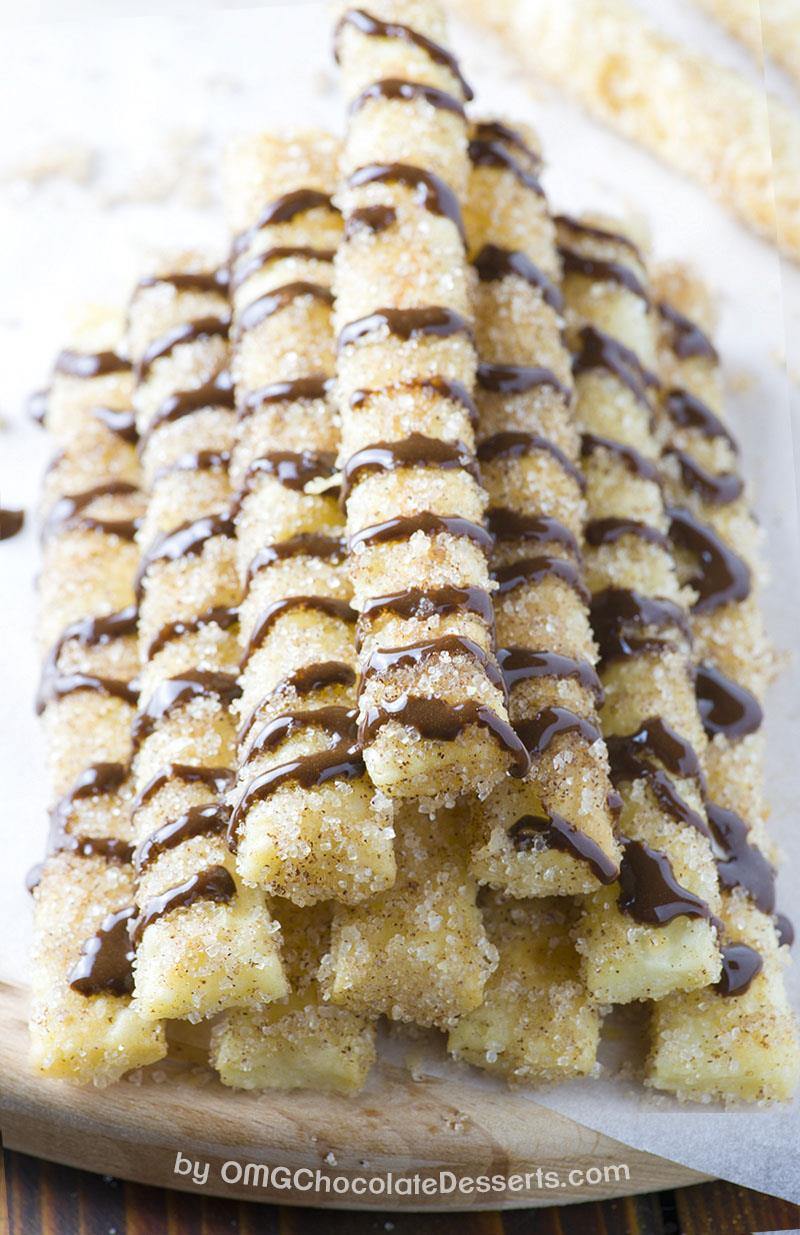 When the puff pastry is thawed you'll have to cut it in the strips, place onto baking sheet, bake for 10 minutes, then roll them into melted butter and coat with cinnamon sugar mixture. Churro simply isn't churro without crispy cinnamon sugar coating, right?! And the best thing about this recipe is that YOU JUST CAN'T MEES UP these Churro Sticks. They can't be easier to put together.
These Churro Sticks are baked, so they are much lighter version than classic churros fried in hot oil. I served them with warm chocolate dipping sauce made with dark chocolate and heavy cream. The sauce is also really easy to make. Just warm the cream and pour it over chopped chocolate, let it sit for a minute and stir to combine and become smooth and shiny. Only problem about this chocolate sauce is that it will thicken as it cooled so you have to serve it immediately. And these churro sticks is so yummy, it will hardly be able to survive a long time. They will disappear as soon as you put them on the table.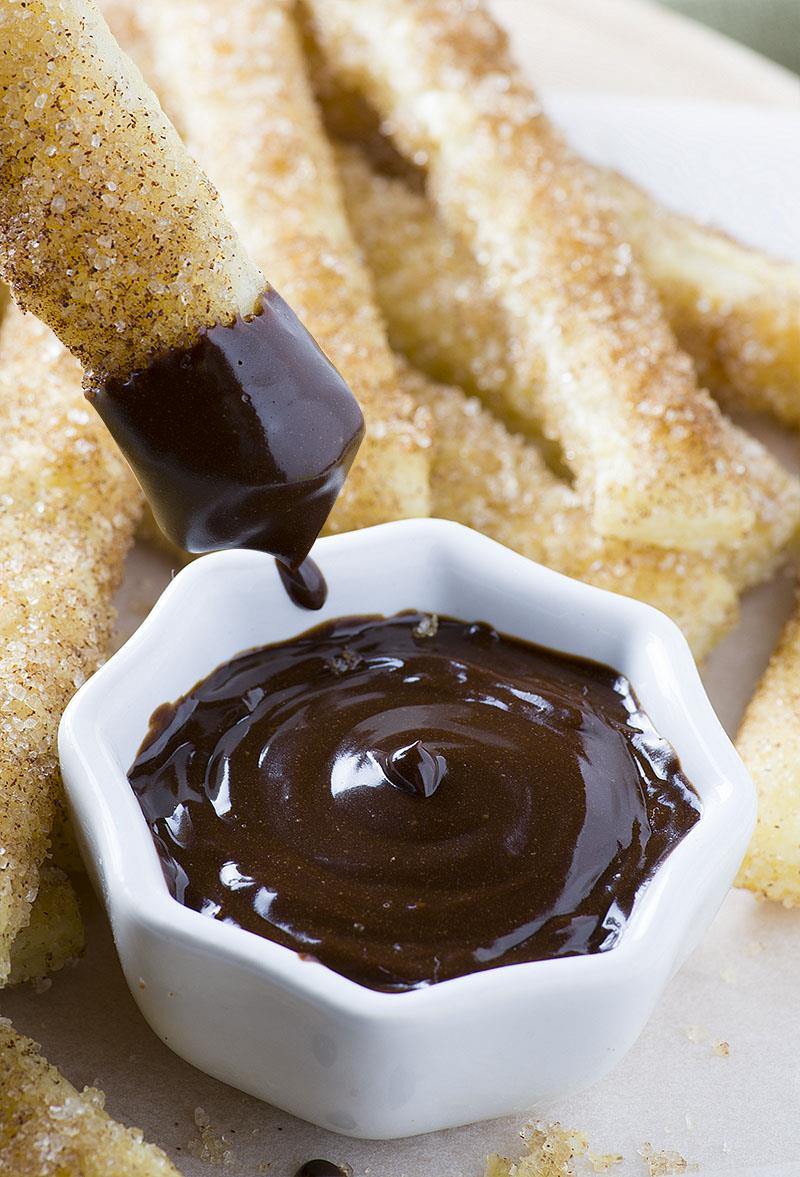 Churro Sticks are the best to serve as soon as they made but they are also just fine next day, just store them in an airtight container at the room temperature. You can also reheat the leftovers of chocolate sauce (if you have any) and use it next day.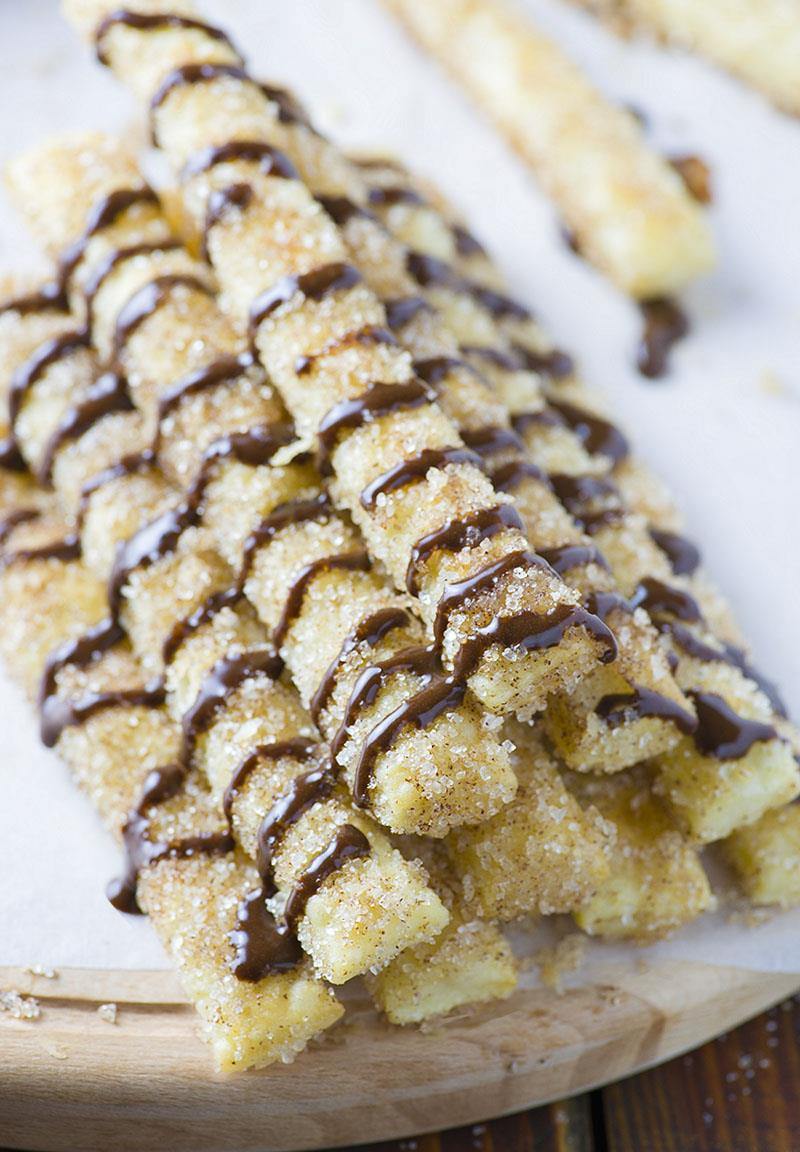 Ingredients
1 puff pastry sheet-thawed
1 cup granulated sugar
4 teaspoon ground cinnamon
1/2 cup unsalted butter-melted
3.5 ounces dark chocolate- chopped
1/2 cup heavy cream
Instructions
Preheat oven to 450 F and line cookie sheet with parchment paper (or spray with cooking spray)
Unfold the puff pastry and cut it in half (lengthwise), then cut into strips (less than 1 inch wide)
Gently transfer the strips onto baking sheets and bake 8 to 10 minutes(until golden brown)
While the churros are baking melt the butter and set aside.
Combine cinnamon and sugar and set aside.
While they are still warm, roll baked churro sticks into melted butter ( don't soak them, just coat all the sides) then roll in the cinnamon sugar mixture. Roll and dip one stick at the time.
To make the sauce pour hot heavy cream over chopped chocolate, let it sit for one minute, then stir until smooth. (The sauce will thicken as it cools, make it right before you're ready to serve it )